The high-quality FLUXX® Degassing Inserts make it possible for gaseous substances to diffuse, thereby preventing pressure from building up and decreasing in the containers – including bottles, canisters, drums and IBCs. The membranes are hydrophobic as well as oleophobic, and as a result, they are not moistened even by liquids with a low surface tension.
Liquid food
Hygiene and care products
Cleaners
Agrochemicals
Hazardous substances and other chemicals
Continuous pressure compensation
Prevent containers from swelling and collapsing
Reliable protection against leaks
Drip-off edge for a rapid re-ventilation after contact with liquids
Easy to install
Declaration of food conformity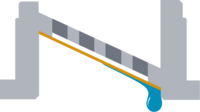 Thanks to the diagonally developed membrane surface of the innovative FLUXX® Degassing Inserts, liquids can rinse off immediately after contact and thus the membrane remains fully breathable at all times.
For a continuous pressure compensation of containers, our FLUXX® Degassing Inserts F15, F17 & F38 – without and with catch (LOCK) – can be pressed in customized closures or other applications. The Degassing Inserts contain various high-performance membranes which were validated for specific product solutions.
With FLUXX®
Degassing System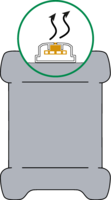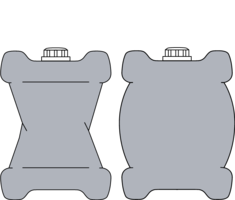 Plastic insert:
Polyethylene (PE)
Membrane:
Backing:
Polytetrafluorethylene (PTFE)
Polypropylene (PP)
Additional materials upon request.
Suitability for hazardous goods
Because of the construction and performance values, our FLUXX® Degassing Inserts can fulfil all requirements for authorization with various containers – especially in accordance with the test specifications set forth in the ADR regulations.
Declaration of food conformity
Our products comply with regulations EU no. 10/2011, EC no. 1935/2004, LFGB as well as FDA and are fit for human consumption under the food law as well as from a physiological point of view – inspected and approved by certified testing institutes. In addition, selected products fulfil further international regulations – especially according to Mercosur – and are available upon request.




Our products achieve a high chemical resistance to many liquids. However, we cannot guarantee comprehensive chemical resistance of specific applications. Therefore, we recommend individual testing of customer applications prior to use – with the support of our experts.