Our unique FLUXX® Vented Caps are equipped with the SAVE-System and are available for common thread sizes with DIN 45, 51 and 61. For the venting system we are using high-quality membranes, which enable a continuous pressure compensation with gaseous liquids, to prevent containers from swelling and collapsing. The membranes are hydrophobic as well as oleophobic, and as a result, they are not moistened even by liquids with a low surface tension.
Liquid food
Hazardous substances and other chemicals
Agrochemicals
Cleaners
Hygiene and care products
Continuous pressure compensation
Prevent containers from swelling and collapsing
Reliable protection against leaks
Drip-off edge for a rapid re-ventilation after contact with liquids
Ready to use – venting component combined with the cap
Declaration of food conformity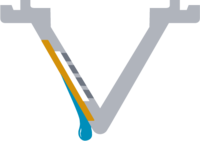 The SAVE (SAfety VEnt) has a wedge-like design and the membrane is welded on at a 60° angle. This enables the liquids to drain off immediately, leaving the membrane unobstructed and air permeable. In addition, no splash protection is needed as the liquid flows past the beveled membrane, should a canister fall over, rather than hitting it head-on.
With FLUXX®
Venting System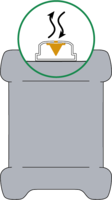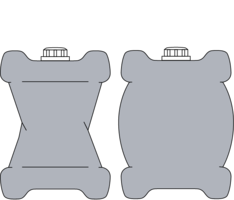 Cap:
Polyethylene (PE)
SAVE:
Polyethylene (PE)
Membrane:
Backing:
Polytetrafluorethylene (PTFE)
Polypropylene (PP)
Sealing Ring:
Expanded Polyethylene (EPE)
Customizations (especially alternative membranes) upon request.
Suitability for hazardous goods
Because of the construction and performance values, our FLUXX® Vented Caps can meet all requirements for authorization with various containers – especially in accordance with the test specifications set forth in the ADR regulations. As a standard feature, the caps are equipped with a molded on tamper-evidence ring as well as an EPE sealing ring.
Declaration of food conformity
Our products comply with regulations EU no. 10/2011, EC no. 1935/2004, LFGB as well as FDA and are fit for human consumption under the food law as well as from a physiological point of view – inspected and approved by certified testing institutes. In addition, selected products meet further international regulations – especially according to Mercosur – and are available upon request.
Our products achieve a high chemical resistance to many liquids. However, we cannot guarantee comprehensive chemical resistance of specific applications. Therefore, we recommend individual testing of customer applications prior to use – with the support of our experts.